NASA camp at SciTEC provides students with hands-on STEM experiences
Educators and counselors from NASA Stennis Space Center recently conducted a three-day "train-the-trainer" Astro Camp, focusing on science, technology, engineering and mathematics (STEM), at Louisiana Tech University's SciTEC Center.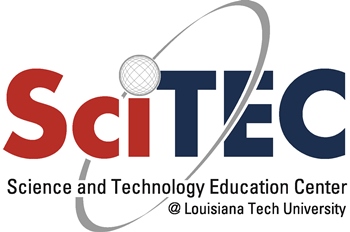 NASA provided instructions and materials to conduct the camp, titled "3, 2, 1 Blast Off!," as well as additional materials for Louisiana Tech to conduct future camps and trainings. Trainees included 30 high school students from the LA GEAR UP program and 17 informal and pre-service teachers. They were joined by 50 students between the ages of seven and 15 from the surrounding area. Local childcare centers such as South Parkway and TLC Dayschools participated in the event and brought students to the Louisiana Tech campus. During the camp, trainees and campers learned about the moon and its effect on the Earth. The group learned about Newton's Three Laws of Motion and Bernoulli's Principle while conducting hands-on activities. The camps activities included constructing moon clocks, building an engineered robotic arm, creating a zip line and the study of the space craft, LCROSS. "The Stennis NASA Camp was an excellent learning opportunity for the students involved in hands-on activities related to science," said Dianne Madden, SciTEC STEM Outreach Coordinator in Louisiana Tech's College of Education. "The students identified challenges and proposed solutions to space-related situations and gained experience in STEM. They learned how using those skills can be rewarding and fun." Several types of rockets were built and launched by the trainees and campers while studying Newton's Three Laws of Motion. Lunar landers were constructed of recycled materials along with their "raw egg astronaut. " A local fire department participated in this engineering challenge activity by dropping the lunar landers from the truck's 75-foot ladder. "I was in awe of the interaction of the young students with their high school and college counterparts," said Julie Ricca of the Stennis Space Center. "There was no fear as they approached challenging topics and worked together to find imaginative solutions. Although the students varied in age and hometowns, they were all in it together seeking answers for the problems posed during the workshop." In addition to the 3, 2, 1 Blast Off! camp, a day-long professional development training session was held for informal and formal educators at SciTEC's IDEA Place Math and Science Discovery Center. Teachers participated in a number of STEM-related activities and left with a variety of instructional resources to use with their students. The educator workshop was hosted by Emma Seiler of the Stennis Space Center. "We at SciTEC's NASA Educator Resource Center are grateful for the collaborative partnership with Stennis Space Center as it provides an avenue to continue and strengthen efforts to offer STEM-related activities and materials at no cost to teachers and students in our region," said Lindsey Keith-Vincent, director of SciTEC. SciTEC, located in Louisiana Tech's College of Education, is the home to Louisiana's only NASA Educator Resource Center. The Center serves as a location for educators to access and obtain free NASA created resources to use in formal and informal educational settings. Any teachers searching for free materials, activities, and lessons related to space science, can contact the SciTEC office at 318-257-2866 or via email at lbkv@latech.edu.