College of Education receives grant to bridge gap between physical education, STEM fields
Dr. Braden Romer, assistant professor of kinesiology at Louisiana Tech University, and Mrs. Lindsey Keith-Vincent, director of SciTEC in Louisiana Tech's College of Education, were recently awarded a $52,000 grant by the Lincoln Health Foundation to help develop a program to bridge the gap between physical education and the science, technology, engineering and mathematics (STEM) fields.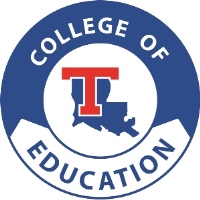 The program will facilitate the integration of kinesiology concepts, including sport and health science, into the eighth grade physical education and science curriculum in Lincoln Parish classrooms. Romer says the pilot program is aimed at bridging the gap between the STEM fields of study, so that the science or math education doesn't stop at the door and physical fitness doesn't end once students leave the field. "Kinesiology is a non-traditional field which has historically been associated with the profession of physical education," said Romer. "While this still remains a component of many kinesiology programs around the country, the field has evolved over the past several decades to become broadly defined as the study of movement. Furthermore, physical education and STEM education are often viewed as opposites, with these programs competing for limited temporal resources during primary and secondary education schedules." Keith-Vincent, who in addition to directing SciTEC also oversees the Office of Professional Education Outreach, the Louisiana Tech Planetarium, and the IDEA Place at Louisiana Tech, says the program builds upon the success of past projects in STEM education. "This is tailored to an age group that often times finds STEM subjects and physical fitness at odds," explains Keith-Vincent. "It is hoped that this program will prove successful, allowing for the implementation on a larger scale across a number of grades." Keith-Vincent oversees a number of grant-funded professional development and outreach projects supporting the educational development of PK-12 students and teachers. Romer specializes in biomechanics in Louisiana Tech's Department of Kinesiology, is a member of the Center for Biomedical Engineering and Rehabilitation Science, and is the director of the Sport and Movement Science Laboratory and the Applied Physiology Laboratory at Louisiana Tech. He also serves on the board of directors for the Gait & Clinical Movement Analysis Society, a multi-disciplinary organization of physicians, allied health professions, engineers, and biomechanists.