Kinesiology department offers exercise science services, expertise to public
The Department of Kinesiology in Louisiana Tech University's College of Education is pleased to announce the opening of a Clinical and Performance Assessment service to the public.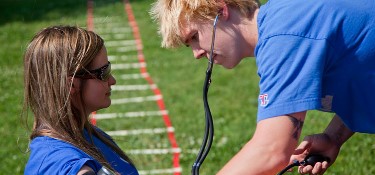 This service, offered through the Applied Physiology Laboratory and Sport and Movement Science Laboratory, will offer the general public an opportunity to take advantage of faculty expertise and state-of-the-art exercise science equipment. Services include performance training or clinical exercise prescription programs, sport skills analysis with high-speed cameras, VO2 max and metabolic testing, body composition analysis, and nutrition or supplementation consulting. The fee-based service is available to individuals, groups and teams within the area, taking advantage of the Department of Kinesiology Faculty's experience in clinical and applied exercise science, including expertise in the areas of strength and conditioning, sport biomechanics, fitness and wellness, and ergogenic aids. For more information, visit www.latechsportscience.org. To schedule a service, please contact the laboratory director, Dr. Braden Romer, at bromer@latech.edu or 318-257-5460.