CoE's elementary education program ranked one of nation's best
— College Choice ranks the College of Education degree program No. 4 nationally —
College Choice, a leading authority in higher education rankings and resources, has ranked Louisiana Tech University's elementary education program No. 4 in the nation and No. 1 in Louisiana in its list of the "35 Best Elementary Education Degrees for 2017." According to the College Choice rankings, the elementary education program in Louisiana Tech's College of Education was recognized for a "tradition of excellence" and its commitment to "being a leader in education; a catalyst for learning, research, and action."  Purdue University earned the top national ranking from College Choice, followed by Texas A&M University, Marshall University, Louisiana Tech and the University of Texas at Arlington.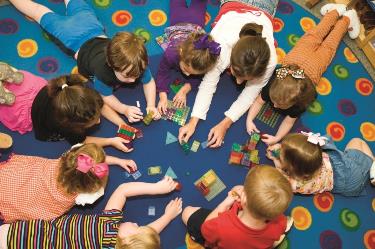 "The recently released high national ranking of by College Choice is a testament to the dedicated faculty, students, and staff of the College of Education, and our outstanding school district partners such as Lincoln Parish Schools," said Dr. Don Schillinger, dean of Louisiana Tech's College of Education.  "While I am very pleased that our elementary education program has received this recognition, it is our goal to continuously improve through the integration of innovative instructional approaches such as authentic clinical residencies and co-teaching and mentoring models with competency aligned coursework." The College Choice rankings used detailed criteria to score the 875 elementary education programs it reviewed across the United States.  The rankings focused on a school's reputation score, calculated using selected categories of statistics from publicly available sources such as U.S. News & World Report, the National Center for Education Statistics, and college websites, an affordability rating using net price calculators, an average early salary measurement using data from Payscale.com, and specific program ratings from the National Council for Teacher Quality 2016 ranking. Louisiana Tech's rankings profile highlighted the professional development programs and opportunities for teachers, students and administrators in the College of Education, benefiting from centers such as the SciTEC's NASA Resource Center and the Idea Place.  It also recognized that the Louisiana Tech's elementary education program is nationally recognized by the Association for Childhood Education International (ACEI), and the three program concentrations: early childhood pre-K-3, elementary education 1-5, and elementary special education. "Our team of education professionals is committed to the mission of Excellence through Education via the use of transparent, data based accountability systems that reward the use of empirically tested, research-based practices associated with highly effective teaching," Schillinger said.  "I am very proud of the work being accomplished by our teacher preparation family, but I am even more eager and hopeful to see evidence of the positive impact it has on P-12 student achievement, teacher retention and the prestige of the teaching profession." For a complete list of College Choice's 35 Best Elementary Education Degrees for 2017, visit
http://www.collegechoice.net/rankings/elementary-education-degrees
.