Makerspace and design conference creates more opportunity for students, teachers
A week-long mix of conference and summer enrichment camp in Louisiana Tech's College of Education is preparing early childhood educators to be more effective through integrated learning exercises and ideas when teaching problem-solving skills in their classrooms.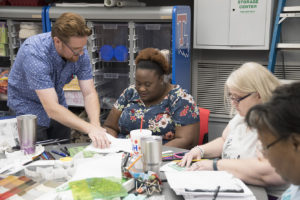 "We want to get back to being real; we were into intellectual for a while, but this way of teaching is more about developing a more well-founded individual," said Benjamin Gramann, a Portland, Oregon-based designer/architect who is leading the conference for the second consecutive year here. "We don't do digital. It's all analog. It's creating. Bending paper. Back to the real thing and the original way of problem-solving, by repeating something in a different way."
Many of the teachers in this week's conference are back from last year's first-time conference, including STEAM teammates Joyce Powell, a librarian, and first and second grade teacher Heather Hubbard from Monroe City Schools. Last year they used design activities they'd learned at last summer's conference as lessons to go with stories they read with their young students. One story was about superstorms: using materials like Legos or wooden planks and blocks, the students built structures to withstand the heavy winds of a tornado or hurricane, a timely lesson that followed the reality of Hurricane Harvey in late August and early September 2017.
"We borrowed one of the large fans from our custodian and put the structures in front of that," Hubbard said. "Two actually remained intact. So we learned from that. Some of these students were familiar with flooding since they'd been exposed to it a couple of years ago in the spring in Monroe, so we were able to talk about that and involve that in our lessons too."
Much of the instruction involves "stringing together different activities until you have a more finalized product," Gramann said. "We trace, draw, build, document, then start over again. We're creating, teaching them to create."
Teachers brought photos from their experiences with their students in 2017-18 to share and discuss what did and didn't work.
The teachers are also learning to build their own makerspaces in their classrooms. (Gramann said a good way to describe a makerspace is to think of the first guy who ever built a shop in his garage.) Working on round tables in front of a bin of supplies 10-feet long by 7-feet high, the teachers are surrounded by coloring pencils, construction paper, straight edges, and about any sort of building material you can think of. A goal is for each teacher to create their own makerspaces in their classrooms and communities.
"We had art class, but this is all integrated learning," Gramann said. "Everything can touch on every subject. We've got design, geometry, history, biomimicry…What we're doing in design is mimicking nature, the highest order of design. Look at a beehive; bees are spectacular engineers. Or to learn a leaf, we begin by tracing a leaf. All analog."
The makerspaces include models students can build, take apart and rebuild in a different way.
"Kids learn by having access to different sets," Gramann said. "We want to offer as many options as we can. Remember, we're getting back to 'making.'"
More than 30 early childhood and elementary teachers from the Monroe City School District and both the Lincoln and Union Parish school boards are taking part in the training with Louisiana Tech Science and Technology Education Center (SciTEC) professors, specialists from the Children's Coalition of Northeast Louisiana, and Gramann. The STEAM (Science, Technology, Engineering, Arts, and Math) collaboration is possible because of the Louisiana Systemic Initiatives Program (LaSIP), established during 1991-92 to improve mathematics and science education through a $10 million National Science Foundation grant combined with matching support fund dollars from the Board of Regents and the Board of Elementary and Secondary Education. LaSIP's signature effort has been statewide university-based Science, Technology, Engineering and Mathematics (STEM) professional development for K-12 teachers, which is exactly what is going on at Tech in Woodard Hall this week.
During the past year, SciTEC, in partnership with a number of colleagues from colleges across the campus, has helped provide support to more than 20 STEAM-focused outreach projects and programs serving students and teachers from the PK-16 levels from the region and from around the nation. Programs such as these help fulling the College's mission of effective collaboration with professionals and other partners to further educational goals by maintaining existing partnerships and by developing new ones.