Education runs in Aerial Stanford's blood.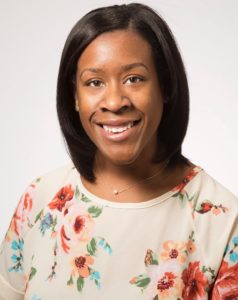 The daughter of educators was reared in Bossier City, and her appreciation for learning is a passion her family members encouraged.
"I ate, slept, and breathed education," she joked.
Even though many family members are proud Tech alumni, Stanford never had intentions of attending Louisiana Tech University. 
"I had promised myself that I would not be attending Louisiana Tech University and had already confirmed that I would be attending Texas A&M," she said. However, she reluctantly attended one of Tech's Legacy Days for a visit.
Stanford'slife was changed forever that day. She immediately knew that both Louisiana Tech University and the College of Education would be her home for the next four years.
"I don't want to imagine what my life would be like if I had not found my home," Stanford said.
Stanford is fully rooted in her Loyal Blue community. She has been a member of the Black Student Union (BSU), Baptist Collegiate Ministry (BCM), Tech Leadership Council (TLC) and Lambda Sigma Honor Society. She also was a 2017-18 Orientation Student Leader and is currently one of SGA's College of Education Senators and a student recruiter.  
"My time here at Tech is almost unexplainable. This place has become my home and will always live in a special place in my heart! The College of Education has been my anchor, my refuge and my guide,"Stanford said. "I've dreamed of becoming a teacher for my entire life, and the College of Education has helped me make advancements towards that dream – one quarter at a time. Because of this college, I know that I will become the teacher that I've aspired to be for so many years."
The College of Education and the Department of Curriculum, Instruction, and Leadership (CIL) have contributed to Stanford's growth as an individual and professional more than anything else on campus. From her mentors and professors, the junior Elementary and Special Education major believesthat they have taught her how to interact and work with people.
"Everyone in CIL has poured into me and molded me both mentally and professionally," Stanford said. "Because of my relationships in CIL, I never had to journey through my educational career alone. Most importantly, CIL has taught me that it is okay to fail, but we should get back up and move forward."
When discussing her future classroom, Stanford said that she wants to cultivate a culture of learning rather than standard goals and numbers, and to "help students fall in love with learning and strive to meet the individual needs of each student so that no child believes there is a cap on where they will go and where their perseverance and hunger for growth will take them."
When summarizing her time so far at Louisiana Tech University, she attributes all that she does to her faith that has empowered her to live out her passion and calling of being an educator and changing the minds and lives of tomorrow's youth.  
"Louisiana Tech University has given me enough joy and experiences to last me an entire lifetime," she said. "This University is where I found out who Aerial Nicole Stanford truly is. I've grown here, I've loved here, and I've hopefully left a legacy along the way to inspire people to live boldly, passionately, and without fear for the future! No matter where this life takes me, to you Louisiana Tech, I will ever loyal be!!"