Professors make presentation at ULS conference
Dr. Jean Chen and Lacey Deal presented "Exposing Students to Diverse Backgrounds through Education and Physical Activities" at the University of Louisiana System's Second Annual For Our Future Conference on UL-Lafayette campus.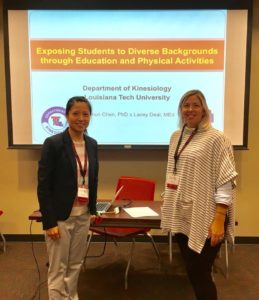 The For Our Future conference allows a wide range of faculty and staff from the system to collaborate and strategize on meeting the six aspirations set forth in the UL System's Strategic Framework. The conference focused its four tracks of Leverage, Opportunity, Value, and Engagement to highlight the conference's 2019 theme of Aspiring, Adapting, Achieving.
In their oral presentation of "Exposing Students to Diverse Backgrounds through Education and Physical Activities," Chen and Deal made sure to define "diversity" and express its crucial importance in education and physical activity settings.
Chen shared the diverse teaching and learning experiences she provided for her students at Lincoln Parish Early Childhood Center (LPECC), at various Lincoln Parish schools (e.g., Glen View Elementary School, I.A. Lewis, and Ruston Junior High School), with homeschooled children, and with K-12 students from the Boys & Girls Club of North Central Louisiana.
While working on their presentation, Chen felt confident that they would have positive feedback from their audience because of their involvement in the community and with our partner schools.
"I was glad Dr. McConathy and Dr. Crawford sat in our presentation because they got to hear all the wonderful things we have done in our department," Chen said. "I am grateful to represent our department and share what we do to other fellow educators in the UL System."
Deal also shared the diverse relationships she created for her students with LPECC, Special Olympics of North Central Louisiana, Buddy Ball of Ruston, Med-Camps of Louisiana, Montessori School of Ruston, and the only Senior Adult Program run by a university around the country.
"When we think about today's college student we have to imagine where they will be five and 10 years down the road. When we teach we want to provide them with a diverse experience that will prepare them for what might be coming to them in their future career," Deal said. "We also want to expose them to as many opportunities as possible so that they see what careers might be available to them upon graduation. This conference was a great opportunity to share all of the ways we think out of the box when teaching our students. I am very appreciative to ULS for providing us this opportunity."