New graduate means there's another doctor in the house
Clifton "Cliff" Luther is scheduled to graduate from Louisiana Tech May 25 after earning his Doctor of Education (EdD) in Educational Leadership with a concentration in Organizational Leadership.
"I went to Tech, and loved it, and still love it, and actually want to work there someday," Luther said, "possibly sooner rather than later."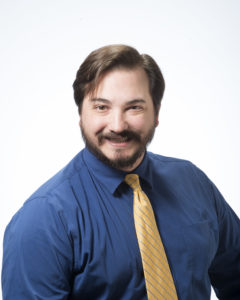 Great to hear. On his side is the fact that folks in his family have had little trouble holding a job. Or a doctorate.
May 25 won't be the first time that someone in Luther's family has walked off a commencement stage with a doctorate in hers or his hands. It won't be the second or third time either.
There are lots of doctors in the Luther house.
His grandmother, Dr. Tama Luther, earned a Doctorate of Child Psychology in 1965 and worked with the Board of Elementary and Secondary Education for the Louisiana State Department of Education. She went on to work with many aspects of desegregation and the Americans with Disabilities Act, reformed many policies that were harmful to students with special needs, and worked to enhance the Gifted and Talented Program for the state.
Her husband and Cliff Luther's grandfather, Dr. Gene Luther, earned a Doctorate in Veterinary Medicine in 1963. He earned his second doctorate in 1971, this time in Microbiology and Biochemistry.
The son of Tama and Gene, Euil "Marty" Luther, earned his medical degree in 1986, the same year his son-and-future-doctor Cliff was born, and began a decades-long career as a Family Practice Physician at EA Conway, also known as LSU Health Sciences Center and more recently as Oschner LSUHSC.
Working with Marty today at Oschner LSUHSC is his wife and Cliff's stepmom, Dr. Sherry Luther, an OBGYN and a Tech graduate.
And now on Commencement Saturday, May 25, Cliff Luther will cap off his five-year doctoral journey, which was not the straight line that it was for his elders.
Luther graduated from Ouachita High and enrolled at LSU.
"I changed my major a few times, changed universities, and finished with a bachelor's degree in general studies from ULM," he said. "I went out into the career world to get a better grasp on what I wanted to do with life and made a discovery with the help of my amazing wife, Shannon."
They began talking about the aspirations of Luther's youth, of his feeling, since an early age, of wanting to help people solve problems, wanting to help others think and understand.
"The things I liked about any job I took were tasks related to motivating, teaching, explaining the how and why of subjects, and helping others understand," Luther said.
Years before, he'd been to Tech for a few quarters along the way to his general studies degree. Now he returned to Ruston with one goal in mind: to earn a doctorate that would allow him to work with people in ways that would help them learn, understand, and be motivated.
"The Doctor of Education program at Louisiana Tech had an interesting track that spun into the realm of Industrial/Organizational Psychology, giving it a concentration in Organizational Leadership," Luther said. "This was a great fit for me because it allowed for work in a variety of organizations, including corporations and universities."
Luther earned a master's in teaching/mathematics in 2012 and immediately began work on his doctorate.
Today he works at CenturyLink in the Department of Corporate Strategy. Dr. Gene Luther and Dr. Tama Luther run their vaccine company, University Products, LLC. And his dad and stepmom work together at Oschner LSUHSC. All have chosen to live and work in Louisiana.
And this family of doctors might just be getting started.
"My eldest son Cannon is 7 and a lot like his grandfather. Dr. Marty," Luther said. "From a very early age, Cannon's shown a significant interest in human biology and is already showing great skill at math and science. He says that when he grows up, he wants to be a doctor who helps people.
"This legacy of Drs. Luther," he said, "may continue to thrive in the decades to come."