Alexander wins LAHPERD Outstanding Future Professional Award
Louisiana Tech College of Education (COE) double major Katie Alexander, whose uncommon and nearly fatal experience fueled her journey toward becoming a sports psychologist, has been named winner of the Louisiana Association for Health, Physical Education, Recreation and Dance (LAHPERD) Outstanding Future Professional Award.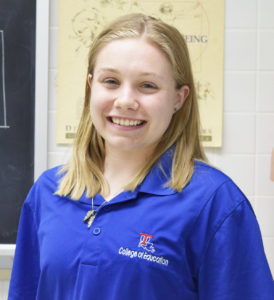 She'll formally receive the award at the annual LAHPERD Convention in Baton Rouge in early November.
A junior double major from Cedar Hill, Texas, and former student-athlete, Alexander is studying psychology as well as kinesiology and health science. She has been on the President's List since 2017 and is very active serving within the COE. Out of more than 400 other undergraduate kinesiology majors, Alexander was nominated for the award by the Department of Kinesiology faculty.
"Katie demonstrates professionalism through her various extracurricular activities and her dedication to students, faculty, and staff of the College," said Tech kinesiology instructor C. Smiley Reeves.
"Katie is a highly motivated and reliable individual whose passion for helping others is beyond comparison," said Jordan Blazo, assistant professor of sports psychology in Tech's Department of Kinesiology. "I have a great amount of admiration and respect for Katie's accomplishments and for the person she is. There is no doubt in my mind that she will make significant contributions to the field of kinesiology in the future."
Alexander's passion and future profession found her in an unusual and trying way: it followed her nearly fatal bout with exertional rhabdomyolysis (ER), the breakdown of muscle from extreme physical exertion; the muscle fibers and their contents are released into the bloodstream. It's an uncommon condition but one that can cause kidney and heart failure, even death.
In Texas, Alexander was valedictorian of her graduating class in Cedar Hill, then earned her Associate's Degree and served as the Parliamentarian of Cedar Valley Community College, Miss Cedar, and the Regional Recruitment and Retention Chair for the surrounding community colleges.
But sports were her passion. Track. Powerlifting. Cross Country. And especially competitive soccer. Alexander was determined to earn a scholarship as a Division 1 collegiate soccer player.
But she found herself overexerting to compete, exercising twice a day and over 20 hours a week. That's what led to her condition when she was playing club soccer in Texas.
Once she'd recovered, the experience led her to her collegiate majors. Optimistic through it all, Alexander chose purpose and perseverance through her pain and rehabilitation. She combined her passions for sports and psychology into an education she can use to make an impact in the lives of other athletes.
"I was heavily involved in competitive soccer and sports throughout my childhood and high school years," Alexander said. "I have seen firsthand how athletes may struggle on and off the field, and it seems that many of them do not have a person to help guide them from a psychological standpoint. I want to ensure that adolescent athletes are well-rounded and healthy individuals, and that they are prepared as they either transition out-of-sport or transition to the next level."
She plans to pursue higher education in Counseling Psychology and Sport Psychology so that she can assist high school and collegiate athletes transition from sports to other professional endeavors. Alexander has seen how those in this age group often struggle with mental disorders, substance abuse, and body image issues. She is passionate about encouraging healthy lifestyles and fitness goals and encouraging adolescent athletes to live happy and healthy lives.
Alexander is a committed member of the Exercise Science and Physical Education organization, a member of the Phi Epsilon Kappa Honor Fraternity, the Louisiana Tech Psychology Society, and the Lambda Sigma Honor Society. She as Tech's Powerlift Team Treasurer.
She is also a member of the National Society of Leadership and Success and a COE Ambassador. As a Type 1 Diabetic, she coordinates with the College Diabetes Network to provide diabetes-related discussions with members, and she promotes diabetes awareness on campus.