Tech program ranked in Top 25 Early Childhood Education Bachelor's Programs in nation
Louisiana Tech University's program in Early Childhood Education (ECE) was ranked one of the top 25 in the United States by BachelorsDegreeCenter.org.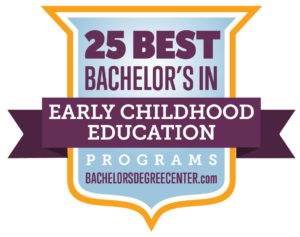 According to the Bureau of Labor and Statistics, preschool teacher employment is expected to grow by 10 percent and preschool and childcare center directors by 11 percent through 2020 because of a critical need for experienced, well-trained teachers for a growing population.
"Having the Early Childhood Education Program recognized as one of the top 25 programs in the nation is a testament to how well our faculty have designed the program to meet state and national competencies, as well as, their excellent instruction to prepare our candidates for their careers in teaching," said Dr. Dawn Basinger, Associate Dean of the College of Education. "We are encouraged to continue to teach, mentor, and care for our future K-3 teachers."
Louisiana Tech's ECE program focuses on the idea that early childhood education is vital and crucial for the intellectual, social, and emotional development of children from all backgrounds and especially for students from disadvantaged homes, underserved populations or with disabilities and special needs.
Program coursework includes Principles of Communication Studies, Methods of Teaching Kindergarten Children, and Strategies and Procedures for Serving Young Children with Special Needs. Graduates can either pursue a career working with children or continue their education so they can earn their graduate ECE degree or other certificates. The program also offers a year-long residency, where students are mentored by a highly qualified teacher prior to earning their certification to teach.
Rankings were limited to colleges and universities that were CAEP and NCATE accredited. Five factors were considered in the Bachelor's Degree Center ranking:
Cost
Employment Rate
Graduation Rate
Reputation
Salary Expectations
Students who graduate with early childhood education degrees learn how to use research-based strategies to assess a child's knowledge and skills, use data from those assessments to effectively plan and implement instruction,and how to provide and promote positive learning environments in actual classroom settings.
Early childhood educators develop a real-world understanding of how to collaborate with children and their families in and outside of childcare facilities. Also, students who graduate with early childhood education degrees have career opportunities other than classroom instruction, including employment as childcare center directors, in preschools, and in the family services sector.
"We are thrilled to have our P-3 program recognized on a national level," said Dr. Kimberly Kimbell-Lopez, professor in the program. "We consider our program to be dynamic and ever evolving as we strive towards continuous, ongoing program improvement by seeking feedback from current and past students. This recognition is truly a way of validating our stellar program."
To learn more about the Early Childhood Education Program, visit the College of Education's website.